I love fizzy drinks, at the cinema with my snacks, at lunchtime always, at dinner, but never with breakfast, honest….

A love for fizzy drinks should never mean our oceans and the creatures who call it home, have to suffer, but every time we use brand new plastic bottles and don't recycle them, that's exactly what's happening.

In the UK alone we use 35 million plastic bottles every day, but nearly half of these are not recycled.

We all love beaches, but hate it when we see plastic bottles and bottle tops ruining the view. Yet a truckload of plastic bottles, bottle tops and other plastic waste which isn't being reused or recycled, is entering our ocean every single minute, which otherwise could have been reused or recycled.

Plastic can take centuries to break down and with plastic production set to double in the next 20 years and quadruple to 318 million tonnes by 2050, we need to curb the flow of plastics into our oceans and take drastic action to end the era of throwaway plastic, right now!

To tackle the problem we need the soft drinks industry to start taking serious action and fast.

The soft drinks industry have the power to end the flow of single-use plastic bottles into our oceans.

Greenpeace is calling on the industry to do more in the first-ever comprehensive survey of the plastic usage and policies of the biggest soft drinks brands which includes, Coca-Cola, PepsiCo, Suntory, Danone, Dr Pepper Snapple and Nestlé.

To read the full report Click here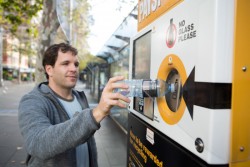 Our survey results revealed a woeful lack of action by the soft drinks industry to prevent their plastic bottles ending up in our oceans.
Of the six companies surveyed, five sell a combined total of 2.16 million tonnes of plastic bottles each year – the same weight as over 10,000 blue whales.
The largest brand Coca-Cola refused to disclose the size of its plastic footprint, making the actual figure much higher.
Despite producing 100% recyclable bottles and putting the onus on their customers to recycle, the top six biggest soft drinks companies use a combined average of just 6.6% recycled plastic in their products.
None of the companies surveyed have commitments, targets or timelines to reduce the amount of single-use plastic bottles they use.
Over the last ten years, these soft drinks companies have been consistently decreasing their use of refillable bottles, instead switching to yet more single-use plastic.
Soft drinks companies are paying little attention to alternatives to single-use packaging, with only limited trials for soft drink dispensers or reusable bottles

These are just some of the findings in the report. You can read the full report here