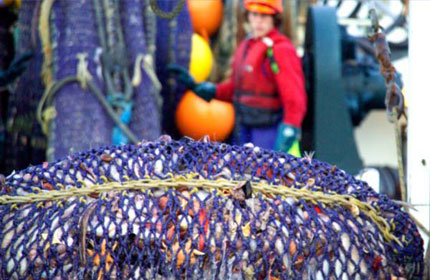 Bottom trawling, possibly the most destructive fishing method yet devised by man, is to be regulated across the whole North Atlantic ocean. The process, which involves dragging nets weight down by metal girders across the seabed, is notorious for its wastefulness. Besides legitimate target species such as cod, plaice and sole, vast quantities of corals, sponges and other deep sea creatures are destroyed as bycatch. The devastation caused is so great that Greenpeace has been calling for some time for a moritorium (suspension of activity) on bottom trawling. Now it looks as though some progress may be being made.
The Northwest Atlantic Fisheries Organization (NAFO), whose members include Canada, the European Union, Norway, Iceland, Russia and the US, yesterday announced plans to regulate the activities of its fleets in line with a 2006 United Nations resolution. The resolution calls for urgent action to protect deep-sea corals and other vulnerable ecosystems from the impacts of bottom trawling on the high seas. The UN originally set a deadline for all regional fisheries treaty organizations to fully implement its plans by December 2008.
NAFO, whose members have the largest fleet of bottom trawlers in the world, is the first to start complying. It has agreed that all high seas bottom fishing within its areas will be subject to impact assessments by the end of 2008, and that fishing areas should be closed or fisheries prohibited where damage to corals, sponges and other deep sea species cannot be prevented. NAFO has set itself an ambitious work schedule over the next several months to complete the assessments and begin identifying areas on the high seas that require protection.
If, as NAFO promise, they implement the majority of UN's recommendations it would be good news, setting a precedent for protection of deep-sea ecosystems across the whole of the North Atlantic. Crucially, it would also be an acknowledgement that our seas are not a limitless resource which can be endlessly exploited without any consequences, but one which must be carefully and sustainably managed if we want to continue to harvest their bounties.