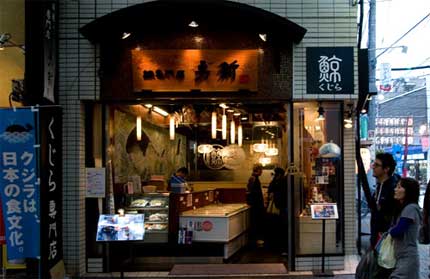 Yushin, Tokyo's official whale meat shop, is closing down © Dave Walsh
Probably better to whisper it at this point, at least if you're a bit superstitious like me, but it has to be said that our much criticised plan to focus all our anti-whaling efforts in Japan, rather than out in the Southern Ocean, is beginning to yield significant results. Even before the whalers prepare to leave port for their annual hunt in the Southern Ocean Whale Sanctuary, new revelations of financial and image problems are adding to the woes of the scandal-plagued industry.
The Institute for Cetacean Research, which conducts Japan's whaling programme, and Kyodo Senpaku, the whaling fleet operators, this week announced the closure of the industry's flagship 'Yushin' whale meat shop and restaurant in Asakusa, Tokyo. The reason given was 'ongoing financial problems', which translates as a 'lack of customers'.
We've also learned that for the first time, this year the crew of the taxpayer-funded whaling fleet will not be wholly Japanese; many crew members quit following the whale meat embezzlement scandal we exposed May this year. This is significant as it has been a proud boast domestically that they have an all Japanese crew. In addition, strong rumours are circulating that the high-profile ceremonies which traditionally mark the fleet's departure from its home town, Shimonoseki, have been cancelled. Instead the fleet is expected to depart from another port later this week, where it will be seen off only by families of crew members and officials from the whaling operation.
This latest series of embarrassments follow last month's deflagging of the whalers'refueling and cargo ship, Oriental Bluebird, which has been banned from Antarctic waters after being ruled in violation of a number of domestic and international regulations by Panamanian authorities.
It all adds up to an industry in crisis, as our Whales Campaign coordinator Sara Holden points out: "As any commercial operator knows, when your business is universally condemned, when you can't hold onto your staff and when almost no one will buy your products - it's time to shut it down". Although whaling officials claim the decline in business is due to a lack of supply, the Institute for Cetacean Research's own figures flatly contradict this; the stockpile of whale meat is actually increasing, which shows that there is no market for whale meat in Japan."
More evidence to support this view surfaced earlier this week when the captain of the well known Norwegian whaling vessel Nybræna said that he and his crew had decided to end whaling operations because there is virtually no market for whale meat in Norway or anywhere else.
Greenpeace's campaign to end whaling in the Southern Ocean Whale Sanctuary has increasingly focused on the authorities and public opinion in Japan, where 71 per cent of the public do not support their country's whaling programme. As a result of our investigation into embezzlement of whale meat from the factory ship Nisshin Maru, Japanese authorities mounted a politically motivated prosecution of two activists, Junichi Sato and Toru Suzuki.
Junichi and Toru, known as the Tokyo Two, have so far been denied their liberty for 145 days, since exposing the corruption. They will be put on trial early next year, and face up to 10 years in jail for intercepting whale meat stolen by crew from the whaling factory ship Nisshin Maru.
But the signs are that their sacrifice may not have been in vain. The whale meat market has clearly collapsed into unprofitability, and the stigma of scandal and corruption has made it an unattractive and less lucrative industry to work for. Its days are surely numbered, and it's time for the Japanese taxpayer to demand the government stops subsidising this bankrupt programme.