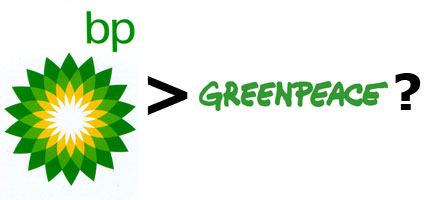 BP greener than Greenpeace? Our survey said 'uh-uh'
During my semi-regular trawl through news stories featuring the word 'Greenpeace' last week, one in particular leapt out: 'BP tops Greenpeace in green brands survey'. But despite the apparent awfulness of that headline, I don't think it's as bad as it looks.
The survey - conducted by Marketing Week and YouGov - delved into the minds of professional marketing gurus to find out which brands they thought were the most eco-friendly. Asked which brand they thought was greenest, M&S came out tops, with names like Innocent, Ecover and the Body Shop also in the top ten. Greenpeace came tenth, one place behind BP but what that headline didn't mention was that BP also garnered fourth place in the list of brands doing the least for the environment, alongside many of our other friends of Shell, ExxonMobil, E.on, British Airways and BAA. So it seems opinions are split as to the oil giant's green credentials.