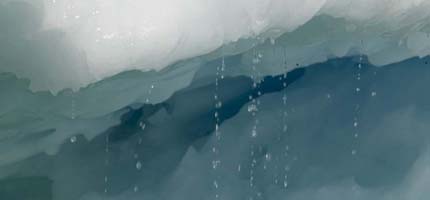 Today, the government has finally published its energy white paper. After last year's energy consultation was ruled "seriously flawed", "misleading" and "manifestly inadequate and unfair" by a High Court Judge, this white paper outlines a new energy policy - and a new nuclear consultation.
Yep, despite a few ineffectual concessions to renewables and efficiency, Tony Blair is still busily spinning the nuclear industry's line: that nuclear power is the answer to climate change. And we still think he's dangerously wrong.
Writing in The Times today, Tony Blair says (the quotes in bold are all his):

"Nuclear power accounts for about a fifth of our electricity"
Sneaky. Nuclear power provides 19 per cent of our electricity but - much more importantly for both climate change and energy security - only 3.6 per cent of our energy. By just talking about electricity instead of energy, Blair's ignoring all the energy that's used to heat our homes, businesses and water, mostly provided by gas.

"[N]uclear power can help to underpin the security of our energy supply without increasing our reliance on fossil fuels."
The government keeps warning us about an impending energy gap in 2015 - and suggesting nuclear power as the answer. But, by the industry's own estimates, the first new nuclear reactor in the UK wouldn't be "taking effect" (the industry's words) until 2017 and the full fleet wouldn't be completed until 2025-2030. At the earliest. And, providing only 3.6 per cent of our energy needs, nuclear power would do almost nothing to plug the energy gap.

"We can meet our carbon dioxide emissions targets, but only if we are willing to think ahead... and give serious consideration to nuclear power."
Replacing our whole fleet of nuclear power stations would reduce our carbon emissions by just four per cent. Some time after 2024. Far too little too late to tackle climate change (and that four per cent would be wiped out by emissions from aviation expansion alone).

"To exclude nuclear would be a big mistake."
To include nuclear would be delusional. We've already covered the fact that it won't deliver the emissions cuts and can't plug the energy gap. We'll leave aside the issues of radioactive waste for now - you've heard it all before. We'll ignore the fact that Scotland's new SNP/Green coalition has said no to nuclear power (without Scotland, where does Blair plan to put the new power stations? On sites in the South-East known to be seriously at risk from sea level rise and flooding?) Let's just look at the economics for a second.
A new nuclear power station has never been built on time and on budget, anywhere in the world. In fact, the average nuclear power station is finished four years late and 300 per cent over budget. Building a new fleet of new power stations will cost, based on past experience, between £20 and 40 billion - and that's ignoring the billions that will be spent on operation, waste management and decommissioning. Research from the US found that every pound spent on nuclear would deliver 10 times the cut in carbon if it was spent on efficiency instead.
Nuclear power relies on private investment - and no investor with a passing knowledge of the industry would touch a proposition like nuclear power with a barge pole. Unless of course the government keeps subsidising investors with guarantees - in which case tax payers will pay through the nose for a technology that won't stop climate change.
A few days ago, Alistair Darling said: "I respect the views of someone who says they don't want nuclear in any circumstances whatsoever. Fair enough. Right, tell me what the alternative is. If there was an easy answer that had low carbon, no cost, no eyesores, somebody would have found it."
We've found it! The Conservatives, Lib Dems and Greens all agree with us. Our supporters have been writing to MPs about it for ages. 32,000 people have watched our film about it on YouTube. It already provides over 50 per cent of Denmark's electricity supplies. It's decentralised energy.
Maybe it just doesn't have a catchy enough name for New Labour. For a system that would double the efficiency of our power stations, slash our carbon emissions, cost us less than nuclear power and leave no radioactive waste, it certainly hasn't attracted a lot of interest from government.
If you need facts, figures and appendices to persuade you, I'd recommend starting with this briefing on today's energy white paper. Or for a more laidback option, watch our film on decentralised energy.