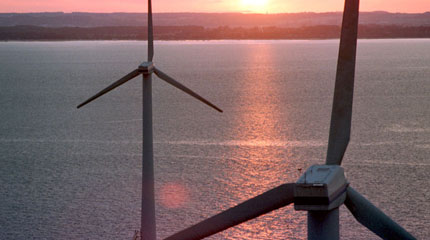 Although the PM has taken a few verbal pastings from us over the past few months on key climate issues like airport expansion and new coal-fired power stations, in a new speech today he did much to redeem himself by announcing an ambitious plan to ensure Britain generates 15 per cent of its energy from renewable sources by 2020.
To be sure, the government has promised as much in the past and failed to deliver, but there seemed to be something different about today's Renewable Energy Strategy Consultation - some meat on the bones which indicated that the plan might just be more than empty rhetoric. The government is consulting on ambitious plans designed to allow the UK to meet its share of an overall EU target to generate 20 per cent of energy (electricity, heat and transport) from renewables within 12 years.
The new plan proposes 3,500 wind turbines built onshore and thousands more offshore, up to 7 million roofs covered in thermal solar panels and a huge uptake of electric cars. If implemented it would be a transformation in the way Britain generates and uses energy and would touch all our lives.
Responding to the announcement, Greenpeace Director John Sauven pointed out that "If the government actually means it this time then Britain will become a better, safer and more prosperous country. We could create jobs, reduce our dependence on foreign oil and use less gas, and in the long run our power bills will come down. But it won't happen without real government action."
"Although this is a consultation to discuss options, it's already clear what ministers need to do. For a start they have to get serious about cutting out energy waste with smarter and better appliances, buildings and cars, and put a proper support policy in place to guarantee a good price for green electricity. Key to making this vision a reality is helping UK industry positioned itself to secure investment, profits and jobs from supplying the parts and expertise to build it all."
The plan anticipates that fuel bills may rise slightly before falling as the transition to renewables is made. Implementing the plan would reduce dependency on oil by 6-7 percent by making the transport system more diverse, encouraging electric and hybrid cars and using some sustainably-sourced biofuels. Gas dependence could fall by 5 per cent and coal-burning by between 13 and 18 per cent. Hitting the target would create 160,000 new 'green collar' jobs in Britain, with the offshore wind industry alone worth £2bn a year.
So far, so good then. Of course there are always a few flies in the ointment: the new proposals reportedly don't deal with the problem of emissions from the aviation sector because no viable alternative aviation fuels are expected to exist for decades. The strategy document states that by 2020 11 per cent of the UK's energy use will be taken up by aviation alone, illustrating how airport expansion could undermine all other efforts to save carbon.
Nevertheless the proposals are both ambitious and achievable, and represent Mr Brown's most positive engagement with genuinely sensible climate change energy policies to date. But they are only likely to become reality if:
We use less energy, more effectively. For the renewable energy strategy to be successful an aggressive energy demand reduction strategy is needed with a tough approach to energy efficiency regulating for smarter design of products, buildings and vehicles to ensure they minimise waste.
We make the planning system work for renewables, not get in their way. We need to take a positive approach to planning, setting out binding local targets and developing local 'green light zones' for renewables using spatial planning. Planners and councilors should be given more resources and training to help them make quicker and better decisions.
Renewable development can bring hundreds of thousands of jobs and economic benefits to the UK, but only if manufacturing and supply industries which make the parts are effectively supported.
We put a proper support policy in place to guarantee a good price for green electricity and that properly meets the varied levels of support required so that technologies at the innovation stage, such as wave and tidal power, are given more support to help them become commercially viable sooner. In Germany this has been successfully achieved by a so-called 'feed-in tariff''.
Bioenergy (which includes biofuels, biomass and biogas) and the land that produces it are precious resources. They have a crucial role to play in the renewable energy mix, but must be used sensibly and sustainably for this to be achieved. First government should establish a sustainable bioenergy policy that prioritises the use of bioenergy in highly efficient so-called 'combined heat and power' stations and sets sustainability criteria for biomass and biofuel that guarantees that they deliver real greenhouse gas emissions reductions and never come from sources linked to the destruction of forests.