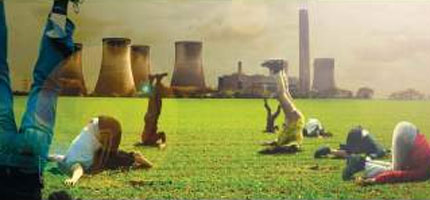 Kingsnorth in Kent is to be the main focus of this year's Camp for Climate Action. From 4th to 11th of August climate activists will gather at the site of E.On's proposed new coal-fired power station, the first to be built in the UK for 30 years.
The week-long protest will begin with a day Heathrow airport, the site of last year's camp, as a reminder that we can't stop climate change without stopping airport expansion. It will be followed by a march across London to the site of the planned £1bn power station and a day of direct action at Kingsnorth on August 9.
"The new power station planned for Kingsnorth will output more CO2 each year than the whole of Ghana"
The camp, which is one of eight targeting coal around the world this summer, will put Kingsnorth at the front and centre of the debate on climate change. It will bring together hundreds of activists for several days of workshops, discussion and direct action. Coal is the most polluting of all fossil-fuels, and the fact that the government looks set to approve plans for eight new coal power plants simply beggars belief - Kingsnorth alone will emit 8m tonnes of CO2 a year (more than nations such as Ghana), making it one of the most climate-wrecking plants in Europe.
Kingsnorth and Heathrow are key battles in the fight to limit the damage caused by climate change. They cannot go ahead if we are to have any chance of meeting the government's own target to reduce emissions by 60 per cent by 2050. Long-term climate security versus short-term profits for the power and aviation companies should be a no-brainer, and yet at every turn Gordon Brown seems to unerringly choose the wrong option.
So this year's camp will be more vital than ever in the battle against climate change. If it's anything like last year's, it will also be challenging, informative and good fun. More to the point, it will be a focus of resistance to the 'business as usual' mentality to which politicians seem so prone, and a reminder that we have only a limited time in which to make a difference to the greatest threat which the world is currently facing.