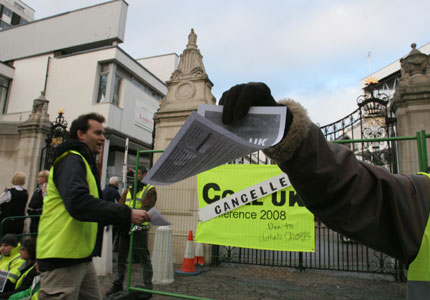 This morning, energy minister Malcolm Wicks made his way to Lord's Cricket ground in London to deliver the opening speech for the coal industry's annual shindig.
He was expecting, we assume, to evangelise on the glorious future of coal in the UK, to the rapt and thunderous applause of his chums in the industry.
He probably wasn't expecting to find two metre fences blocking four of the entrances to the industry-government love-in, complete with climate change campaigners chained to the barricades.
But, a few minutes ago, Greenpeace volunteers barricaded the entrance, ready to give him and the 200 other attendees of Coal Conference 2008 a slightly different welcome to the one he was expecting.
Why?
• Because the government looks set to rush through approval of the UK's first new coal plant in 30 years within weeks.

• Because that plant (Kingsnorth) will pump out the same amount of carbon dioxide as 30 developing countries.

• Because, if Kingsnorth goes ahead, the seven other coal plant applications waiting in the sidelines will rush through the floodgates.

• Because, if the UK builds new coal plants, we won't have a leg to stand on when we ask the likes of China and India to clean up their acts.

• And because it's completely needless - there's a far better way.
This is probably the most important decision on climate change that Gordon Brown will ever take (the science makes it blindingly clear that if we return to coal globally, "we will lock in future climate disasters associated with passing climate tipping points".)
The decision needs to go to a public inquiry - not be left to ministers colluding with the coal industry. And they are colluding:
As well as planning to give the opening speech at Coal Conference 2008, Malcolm Wicks also sits on the board of the UK coal forum, whose purpose it is to "bring forward ways of strengthening the industry, and working to ensure the UK has the right framework to secure the long term future of coal fired generation".
And, just last week, the department for business and energy (DBERR) jettisoned thousands of letters from UK citizens and the advice of the world's most eminent climate scientist and allowed a coal giant to dictate the UK government's climate change policy.
The good news is that the campaign against coal is picking up pace. Other environmental and development organisations are joining the campaign against new coal (check out the World Development Movement's excellent new site at www.stopkingsnorth.org).
And there'll be courtroom drama too: on Friday this week, the vertigo-free Greenpeace volunteers who climbed the chimney at Kingsnorth last year will be in court for a committal hearing, facing charges of aggravated trespass and criminal damage.
Join the campaign by writing to business minister John Hutton demanding a public inquiry on the most important decision on climate change this government will ever face.