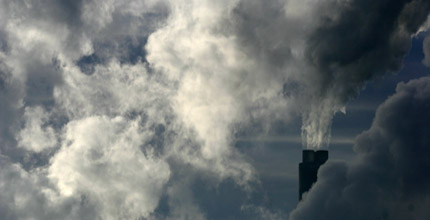 It will be the UK's first new coal fired power plant in 34 years. It will emit as much carbon dioxide as the 30 least polluting nations in the world combined. And the world's leading climate scientist has called it "a tipping point for the world".
The proposal for a new coal-fired power plant at Kingsnorth in Kent has been given the go-ahead by Medway Council. At a meeting last night, only three of the 16 councillers objected to E.ON's application, meaning that the plant - which will generate electricity in the most climate-wrecking way known to humankind - has been approved, potentially starting a new coal rush in the UK.
The decision now goes over to Gordon Brown. It's the defining climate decision of his premiership: whether to kiss goodbye to his government's own emissions reductions targets, or whether to take a stand against new coal.
A couple of weeks ago, Dr. James Hansen, the director of Nasa's Goddard Institute for Space Studies, wrote a letter to Brown, warning him that his "leadership is needed on a matter concerning coal-fired power plants in your country, a matter with ramifications for life on our planet, including all species."
Energy giant E.ON is justifying its plans by claiming the plant will use "cleaner coal" ie carbon capture and storage (CCS). But there are no commercially viable CCS plants anywhere in the world, and a definitive UN report from the IPCC says the technology won't be viable for decades. CCS is an unproven technology which even the Chancellor Alistair Darling has said may never work.
We have a decade left before our emissions must peak and E.ON - Britain's biggest polluter - is building a plant that will pump out 8.4 million tonnes of carbon dioxide every year until, at some unspecified point in a few decades' time, a technology to capture and store carbon may or may not become viable.
The decision's now on Brown's desk and, as Dr Hansen says, it's absolutely vital that he takes clear and decisive action. You can join our campaign against Kingsnorth by writing to Gordon Brown and telling him to say no to new coal.