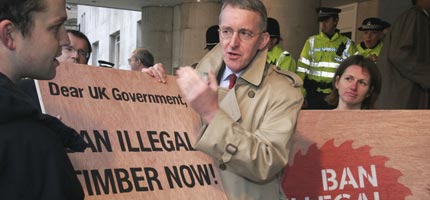 On 19th October 2005 Greenpeace activists blockaded the entrance to the government's environment ministry by dropping a tonne of illegally logged Chinese plywood right outside their door, in protest against the tonnes of illegal timber which continue to flood into Britain. Two activists chained themselves to the plywood to stop it being removed, while climbers unfurled a massive banner saying 'Ban Illegal Timber'. Volunteers handed out leaflets to staff and after four hours, police used bolt-cutters to remove them.
More information
Partners in Crime: The UK timber trade, Chinese sweatshops and Malaysian robber barons in Papua New Guinea's rainforests.

Lawlessness: How Europe's borders remain open to trade in illegal timber.
This action followed a Greenpeace investigation into the trail of illegally logged rainforest timber from Papua New Guinea (PNG), through sweat-shop plywood factories in China and on to the shop shelves of builders' merchants in UK - like Wolseley Build Centers.
Later that day we surprised Environment Minister Elliott Morley in Westminster, on his way into a conference on sustainable timber procurement in the public sector. Mr Morley said he was happy to go on record calling for a ban on the import of illegally logged timber. The government has yet to make their position clear.
Since the action, Wolseley Builder Centers have agreed to remove all Chinese tropical hardwood plywood from their 200 stores in the UK. A number of other major buyers have also suspended similar imports. Unfortunately, other companies such as Montague Meyer have, to date, failed to do the same.
At the end of October we also presented a letter made of illegally logged Chinese plywood to Hillary Benn, the UK Cabinet Minister responsible for Development at a Development Ministers meeting in Leeds. Mr Benn graciously took it into the meeting.