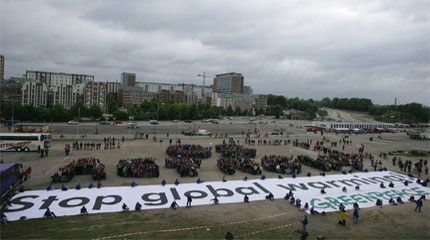 UPDATE - 12.40pm: There have been boat chases and arrests near the G8, as Greenpeace inflatables entered the exclusion zone.
---
After a week of farcical manoeuvrings and diversions in the run up to the G8, today's the day of reckoning; this afternoon, Angela Merkel, George Bush, Tony Blair et al will sit down in Heiligendamm to talk about climate change. The interplay of power between them will help determine if, how and when climate change is seriously tackled by the world's most polluting countries.
The talks began yesterday, with a focus on poverty. After a probably not very cosy lunch with Merkel, Bush announced that he had a "deep desire" to help the hungry and to reduce malaria. Conspicuous in its absence was any mention of Merkel's plans to limit the global temperature rise to less than two degrees.
(The irony in this of course is that if the temperature rise isn't kept below two degrees, 250 million people could suffer from food shortages and 70-80 million more could be exposed to malaria. More than a billion could face water shortages. There's more in a new report (pdf) from development NGOs.)

As well as the two degrees goal, Merkel, who's hosting the talks, is pushing for meaningful and mandatory emissions reductions targets. The shenanigans to date suggest that Bush wants these to be voluntary and, apparently, meaningless, with the US controlling the process instead of the UN. Blair sides with Merkel (it's his last G8 summit, after all), gunning for a commitment to a 50 per cent cut in carbon emissions by 2050. As usual, he's wriggled out of directly criticising Bush.
So the sleeves are being rolled up on all sides for an intense bout of negotiation. What would success look like?
Well, it's all down to Merkel, and how far she's willing to push it. Leaving aside the possibility that Bush has a Damascene conversion and decides he wants to adopt ambitious, mandatory targets through the UN, the next best result will be for Merkel to ignore him, and focus on the seven other G8 countries that have ratified Kyoto.
If Bush keeps trying to sabotage the process, Merkel needs to keep pushing forward, without worrying about the US. If these seven countries can agree on mandatory and meaningful emissions reduction targets, working within the UN framework, then the G8 will have been a success.
So what's a meaningful target? Our G8 checklist (pdf) has our full list but here's a quick summary. As well as keeping climate change below two degrees, the G8 must commit to cutting global emissions by 50 per cent (compared to 1990 levels) by 2050. To achieve that, industrialised countries need to take the lead, and commit to the more ambitious 80-90 per cent cuts in their own emissions in the same timeframe. And, with up to 25 per cent of emissions coming from tropical rainforest clearance, the G8 must commit to stopping the loss and degradation of intact forests by 2010.
If you want to have your say in this, Avaaz is trying to create the biggest climate change petition in the world, which they're going to deliver to the G8 - you can sign it here. For the latest news, keep an eye on our updates from the G8.