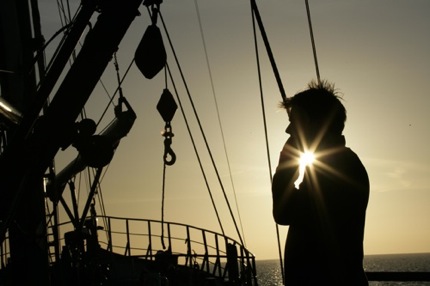 On deck of the Rainbow warrior, taken during the Warrior's UK tour. © Will Rose / Greenpeace.
See all Rainbow Warrior tour updates or get them by email. 
---
It's slightly surreal sitting here in the mess of the Rainbow Warrior, where life is carrying on in all its usual, cosy hustle and bustle. (The crew members are helping themselves to spaghetti and salad as I write, and a couple of people are using the first quiet moment of the day to have a shower.)
Just outside is the towering smokestack of Kingsnorth and, around the corner, there's a small, concrete island owned by E.on which six people - including two of the Kingsnorth Six - have occupied. They're planning to set up a projector and beam images of climate change impacts onto Kingsnorth's smokestack. (So far, they've been troubled by technical problems - I'll keep you posted.)
In the same way that we warned E.on we were on our way this morning, we also told them this afternoon that the Rainbow Warrior intended to stay here, moored up alongside the coal delivery jetty, through the night. E.on was not best pleased, complaining that we've interrupted a delivery from a coal ship. They are, apparently, considering "taking action".
We'll see. In the meantime, standing out on deck you can just about make out the haze from Kingsnorth's chimney - a subtle, silent reminder of why we're here. Professor Hansen famously described how 'every ton of carbon counts,' how with the Kingsnorth decision the PM has the potential to influence the future of the planet. Today was classic Rainbow Warrior philosophy - from the beginning, this ship has always been about bearing witness, sailing into the frontlines of environmental abuses at critical moments ahead of world changing decisions.
Anyway, I'm updating Twitter and Moblog - keep checking for the latest. I'm off to see if there are any left-overs.