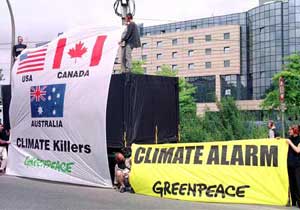 sounding the climate alarm
Sirens set off by Greenpeace activists outside the United Nations climate conference sounded the alarm - it is time for ministers to start talking. Activists outside the conference unfurled a banner which read "Australia, Canada, USA - Climate Criminals" while inside Australia and Canada were doing their best to either stall or vandalise the Kyoto Protocol and frustrate attempts to combat climate change.

"It's desperation time for the world's climate and this conference," said Steve Sawyer, Greenpeace climate campaigner.