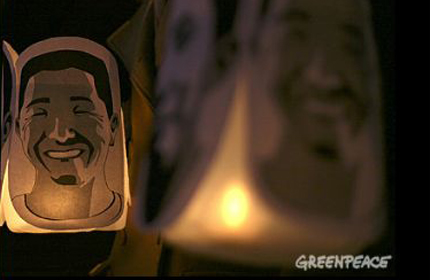 Lanterns carrying the image of Toru Suzuki at Japanese Embassy vigil in support of the Tokyo Two, Washington DC, Feb 17 2009
My very wonderful Greenpeace International colleague Elaine has just published the February edition of the month in pictures series, highlighting a range of Greenpeace actions around the world. February's top shots range from locations in Mexico, Nigeria and Russia and cover campaign issues including e-waste, the upcoming trial of the Tokyo Two, forest fires and, of course, climate change - all in a handy slideshow format.
For more images and slideshows from our campaigns around the world, check out the photos, audio and videos section of our international website.