Two years have passed since world leaders promised all of us a deal to stop climate change. After two weeks of UN negotiations, politicians breezed in, had dinner with the Queen and then failed to deliver any meaningful action on climate change.
As we all try to come to terms with the historic failure of nerve and vision that paralysed the Copenhagen climate summit, the response of Greenpeace members around the world has been fast and focused: expressing their condemnation of world leaders unwilling or unable to lead in a time of crisis, and demanding the release of the four Greenpeace activists who face spending Christmas in jail after making a peaceful protest at the Danish Queen's dinner for Heads of State.
Copenhagen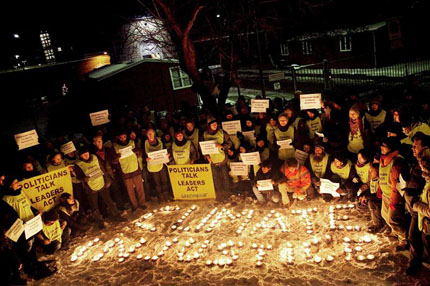 Over 100 Greenpeace staff and supporters held a candle-lit vigil outside Vestre Fængsel prison, Copenhagen, where four of our activists face spending Christmas in jail - held in isolation and without trial. Three of them took part in the peaceful protest at the Danish Queen's Heads of State dinner during the Copenhagen Climate Summit.