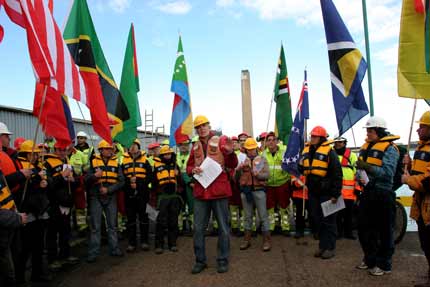 Commemoration ceremony led by Greenpeace Executive Director John Sauven at Kingsnorth coal-fired power station in Kent. © Kristian Buus/ Greenpeace.
See all Rainbow Warrior tour updates or get them by email.
---
I'm on the Rainbow Warrior just outside Kingsnorth coal plant. Security guards are trying to stop the 30 campaigners on the jetty from breaching security and walking through the power plant to the site of the proposed new Kingsnorth plant so, at the moment, they're holding the commemoration on the jetty, with security guards listening.
Each volunteer is carrying the flag of one of the 30 least polluting countries in the world; the proposed new coal plant at Kingsnorth will emit as much as these 30 countries combined. They're also reading out the evidence given by NASA director James Hansen and Inuit leader Aqqaluk Lynge at the trial of the Kingsnorth Six.