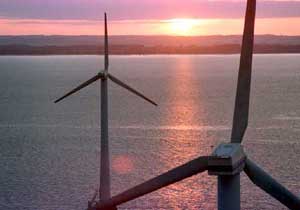 wind turbines at sunset
Update: 19th July

The pace of activities continues to pick up rapidly here in Bonn.

Yesterday, the US Greenpeace students had a formal debate at 8 AM with the "Corporate" students brought over by a combination of climate skeptics, the oil industry and Republicans. Needless to say, our students carried the day, which started early because the "Corporate" students had to rush off for a sightseeing tour of nearby Cologne.

NGOs here have created a button (badge) with a picture of the Japanese flag and the words "Honour Kyoto" on them. German Environment Minister Jurgen Trittin was spotted wearing one, as well as delegates from many other countries.