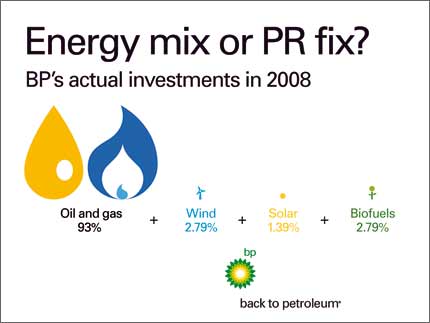 The tension built as the judges deliberated. Then at last the results were were all in and - ta-da! It was time to announce the winner of the first annual Greenpeace 'Emerald Paintbrush' award for greenwashing above and beyond the call of duty. Cue a quick roll on the drums, and step forward into the spotlight - BP!
The energy corporation with an income larger than most of the world's nation states has spent a lot of time and money restyling itself as being 'Beyond Petroleum' in recent years, but a trawl through their accounts quickly reveals just how empty that assertion really is - 'Back to Petroleum', more like it.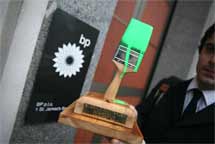 Strangely enough, when our dinner-jacketed and bow-tied representatives turned up at the British oil giant's London headquarters this morning to present the handsome, bright green, mounted paintbrush to group CEO Tony Hayward, they were unceremoniously ejected.
The prize was offered in recognition of the company's attempts to greenwash its brand over the course of 2008, in particular its multimillion dollar advertising campaign announcing its commitment to alternative energy sources. Slogans such as "from the earth to the sun, and everything in between" and "the best way out of the energy fix is an energy mix".
The reality, you'll be unsurprised to learn, is somewhat different. We got our hands on internal company documents (summarised in the chart above) which clearly show that this year the company allocated 93 per cent ($20bn) of its total investment fund for the development and extraction of oil, gas and other fossil fuels. In contrast, solar power (a technology which analysts say is on the brink of important technological breakthroughs) was allocated just 1.39 per cent, and wind a paltry 2.79 per cent.
The same presentation reveals that BP intended to spend just $1.5bn this year on all forms of alternative energy – including wind power, wave, solar, tidal, and biofuels and even including some "efficient" natural gas projects. This amount represents just 6.8 per cent of their total investment.
The reality is that BP is one of the world's largest single corporate emitters. In 2007 alone the company released over 63 million tonnes of CO2 into the earth's atmosphere, roughly equivalent to the emissions of Portugal. But while their adverts announce the arrival of a fresh approach, BP boss Tony Hayward continues to describe alternative energy only as "a valuable option for the future". Too little, too late Tony.
A final word from our man at the impromptu awards ceremony, James Turner:
"You wouldn't know it from their adverts, but BP bosses are pumping billions into their oil and gas business and investing peanuts in renewables. They've won the 2008 Emerald Paintbrush award because their slogans suggest that they are serious about clean energy, while their actions show they're still hell-bent on oil extraction."
BP won this year's paintbrush but there were plenty of other contenders. Which finely-spun piece of advertising caught your eye? Let us know in the comments below.
Video: highlights from the BP 'Emerald Paintbrush' awards ceremony