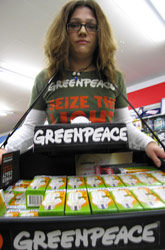 I was just about to write a piece slating Woolworths (as, after all the fuss we caused on Saturday, we still hadn't heard from them) when I got a call from Laura, one of our campaigners, to say she had a letter from them explaining what they're going to do about energy-guzzling light bulbs. I'm looking at it now and I'm sorry, but I'm still going to slate them.
It's from CEO Trevor Bish-Jones who begins by not asking for us not to stage in-store protests in future but to communicate directly with himself. So he'll be pleased about all the emails he's been getting from you (if you haven't emailed him, do it now, or you can call your local branch of Woolies and speak to the manager).
He goes on to use some well-worn arguments which I thought it would be useful to air here. Take it away, Trevor.